In the twentieth century, Hubble telescope showed us the universe is expanding and the expansion is speeding up which was contrary to the belief that it's slowing down. After the Big Bang, the universe expanded exponentially and that phase is called inflation. Scientists don't know what caused the inflation and what stopped it but there are many speculative theories out in the scientific community.
If we think from the perspective that universe is expanding and try to visualize all things in reverse order, we would reach the moment of the Big Bang when our universe was born, the energy density was extremely high, there were no atoms, molecules, etc. but just highly compact energy density which after the bang decreased spontaneously and is still decreasing.

The Bang in the Big Bang happened everywhere and the moment when it happened is the singularity. Now if we think about this statement deeply, we would analyse that if the moment of the Bang is when the time started and that moment is at singularity, that means not only that time wouldn't have existed before Big Bang but also we can't go before Big Bang because the moment of time at the Big Bang is itself is unidentified. We definitely need new mathematics to find out the result and so far string theory is doing a fine job in unwinding the deepest mysteries of our universe or in fact showing us a great possibility of multiple universes or multiverse.
Imagine our universe to be a soap bubble and we live on the surface of that soap bubble. Unlike our universe, there are many other kinds of universes out there i.e. many other soap bubbles. Now, these bubbles can undergo fusion or fission. Fusion will lead to the formation of a bigger soap bubble i.e. bigger universe and fission will give birth to two baby universes and guess what… our beloved and not so beloved string physicists are betting on whether or not these baby universes are having an umbilical cord attached with the mother universe.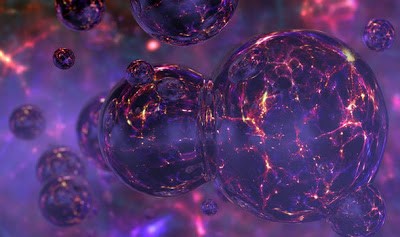 If that's a true case then traveling between two universes might be possible. And the energy which is released after the fusion or fission is what the Big Bang might be. It sounds just amazing in spite of its highly baffling mathematics. Well, the future development in string theory will definitely give a clear picture of the Big Bang.
In the early universe, there has to be a balance between matter and their anti-partners called antimatters. It's very baffling why our universe made of matter? where did the antimatter disappear? should we even exist? All such questions would be answered in my next post. So do subscribe this blog to get notified.