In the last post, I talked about magnets and answered some fascinating questions like, what's a magnetic field? from where the magnetic properties originate? Do magnetic monopoles exist? I recommend you to read my previous blog post before reading this post, since, this is the continuation of the last post and few concepts would be very useful from the last post to understand this post.
In this post, I have explained more on the spin magnetic moment and continued by explaining different types of magnetism.
DERIVING THE SPIN MAGNETIC MOMENT FORMULA:
In 'a primer on magnets', I talked about the magnetic moment (M) and formulated it as M = –L(e/2m), where L represents either spin angular momentum, orbital angular momentum or total angular momentum. It turns out that the classical results off by a proportional factor for the spin magnetic moment (Ms). Therefore, the classical result is corrected by multiplying it with a dimensionless correction factor g, known as g-factor. Also, we can express (eħ/2m) as μB, where μB is called Bhor magneton which is a constant. Thus, the spin magnetic moment (Ms) could be formulated as follows:
Ms = –S(μB/ħ)
where S represents spin angular momentum.
MORE ON SPIN MAGNETIC MOMENT: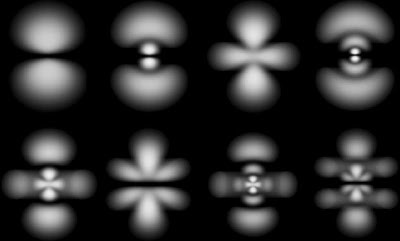 By definition, the spin magnetic moment is the magnetic moment caused by the spinning of the elementary particles. The resultant magnetic moment of the particle is thus equal to the vector sum of orbital magnetic moment and spin magnetic moment. In the early 20th century, Wolfgang Pauli formulated Pauli's exclusion principle which states, 'two or more identical fermions cannot occupy the same quantum state within a quantum system simultaneously'. Thus, an orbital can only have a maximum of two electrons with opposite spins. If an atom has only half filled atomic orbitals, then, the atom has a net magnetic moment, therefore, the atom is magnetic. However, if an atom has full filled atomic orbitals, then, the opposite spin will cancel out the spin magnetic moment causing the net magnetic moment to be zero. Therefore, that atom is non-magnetic.
TYPES OF MAGNETISM: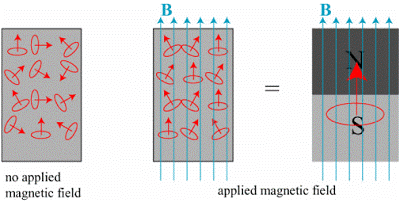 On the basis of magnetic properties magnetism is mainly divided into diamagnetism, paramagnetism, and ferromagnetism. Though there are other types of magnetism as well with exotic and mysterious properties like ferrimagnetism, anti-ferromagnetism, spin glass, etc. I shall be focusing more on diamagnetism, paramagnetism, and ferromagnetism.
Diamagnetism: Diamagnetism is a quantum mechanical effect which occurs in all materials. When diamagnetism is the only contribution to the magnetism, that material is said to be diamagnetic material. Such materials show repulsive behavior in the presence of a strong external magnetic field, since, the applied magnetic field creates an induced magnetic field in them in the opposite direction. From a picturesque point of view, the electrons whose magnetic moment is in the direction of the external magnetic field slow down and the electrons whose magnetic moment is in the opposite direction of the external magnetic field speeds up. As a result, the net magnetic moment of the atom becomes non zero and the atom which was earlier non-magnetic due to full filled atomic orbitals also becomes magnetic. Here are some examples of diamagnetic materials: silver, air, water, antimony, hydrogen, sodium chloride, gold, nitrogen, silicon, etc. Though diamagnetism occurs in all materials and it is difficult to find in paramagnetic and ferromagnetic materials, superconductors are the one where perfect diamagnetism could be observed.
Paramagnetism: Paramagnetism is generally shown by the atoms with half-filled atomic orbitals. Such atom in spite of being magnetic at the atomic level, the overall solid/material is nonmagnetic, since, the magnetic moment of every atom in the solid is aligned in such a way that it cancels out with magnetic moment of other atoms, resulting in a net magnetic moment of the overall solid to be zero. When such material is provided with an external magnetic field, the magnetic moment of every atom aligns parallel to the applied field and show temporary magnetism. Such substances are weakly attracted by an external magnet. Some examples of paramagnetic materials are as follows: aluminum, lithium, copper chloride, niobium, chromium, tungsten, calcium, sodium, oxygen, etc.
Ferromagnetism: Ferromagnetism is the key ingredient of permanent magnets. Ferromagnetic materials are strongly attracted by an external magnet. With an external magnetic field strong enough, a strong exchange coupling is created between neighboring atoms in the domain, causing all magnetic moments to be aligned in the same direction forever. With such a strong external magnetic field, the material would not lose magnetism after the removal of the external magnetic field. Iron, cobalt, nickel, gadolinium, dysprosium, etc. are a few examples of ferromagnetic materials.
So which of the above magnetism is your favorite? Let me know your answers along with the reasons below. I am personally very fascinated by superconductors as they show exotic properties and exciting applications in almost every field of science and technology. In my next article, I will be giving a beginners version for superconductors. So do subscribe the blog to get notified for such exciting articles and posts.