Particle physics, high energy physics, and quantum physics are some of my fascinating fields in physics. The mysterious quantum realm never fails to surprise scientists and particle accelerators are the technology which could help scientists to discover new physics. One of many particle accelerators is the CERN's large hadron collider (L.H.C.), a 27km circumference massive machine which creates extra-ordinary levels of energy resulting to create micro-black holes. This gigantic machine discovered Higgs boson (famously called as the 'God particle') in 2012 about which I will be discussing in my future posts. In a nutshell, Higgs boson is a particle which confirms the existence of the Higgs field, with whom other particles interact via Higgs mechanism to gain mass.
Today, I will be explaining the working of this massive machine into various stages. So let's get started: 

STAGE 1: PARTICLE GENERATION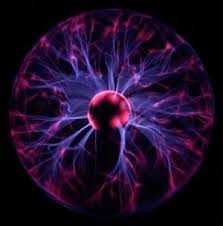 A cylinder of compressed hydrogen gas is the beginning of the world's largest and powerful particle accelerator. Hydrogen gas is sent in the source chamber of a linear accelerator for protons (Linac 2) where its electrons are stripped off leaving behind the protons of each hydrogen gas. This stripping off electrons is done simply via plasma. 

STAGE 2: PROTON SYNCHROTRON BOOSTER
The proton is simply guided via electric field and superconductive massive magnets causing to keep the particles in focus i.e. at the center. Under ultra-high vacuum, proton enters the Proton Synchrotron Booster (PSB). In this 157m circumference booster, the particles are accelerated to 91.6% of the speed of light. 

STAGE 3: PROTON SYNCHROTRON
Constructing linear accelerators are impractical, therefore, scientists and engineers use synchrotron (a circular path) which does an efficient work in less space. From PSB the particles are sent to Proton Synchrotron (PS). PS takes protons from PSB at a kinetic energy of 14GeV and lead (Pb) ions (coming from Low Energy Ion Ring (LEIR)) of 72MeV and converts them to 28GeV. This 628.3m path accelerates the proton to 99.9% of the speed of light.
It's a versatile machine which has accelerated protons, antiprotons, electrons, positrons and species of ions like lead (Pb). It's here where the point of transition is reached, a point where the energy added to the protons cannot translate into increased velocity as they are already approaching the limiting speed of light. Instead, the added energy manifests itself as increasing mass of the protons. In PS the protons get 28 times heavier and are then channeled to 7km Super Proton Synchrotron (SPS) which has the capability to increase the energy up to 450GeV. 

STAGE 4: INTO THE LARGE HADRON COLLIDER
Now the particles are ready to enter the massive accelerating ring of the 27km circumference. Here the proton beams are divided and accelerated in two different adjacent tubes in a clockwise and anticlockwise direction in each tube respectively.
The proton achieves the energy of 13TeV and velocity of about 99.999999% of the speed of light. Here the proton beams are guided with strong magnetic field maintained my superconducting magnets in ultra-high vacuum. 

MAGNETS USED IN L.H.C.: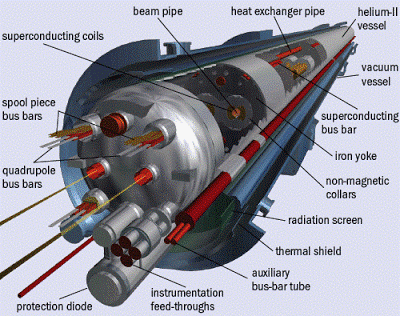 The electromagnets are build from coils of special electric cable that operates in a superconducting state, efficiently conducting electricity with negligible resistance or negligible loss of energy. The temperatures of such superconducting magnets are maintained at -271.3 centigrade.
Talking about L.H.C. magnets, let me tell you that, there are thousands of magnets of different varieties and sizes which are being used to direct the beams around the accelerator. These include 1232 dipole magnets 15m in length and 392 quadrupole magnets, each 5m-7m long.
Just prior to collisions, another type of magnet is used to squeeze the particle closer together to increase the probability of collisions. 

STAGE 5: COLLISION AND DETECTION

The particles are so tiny that the task of making them collide is like firing two needles 10km apart with such precision that they meet halfway. The two adjacent tubes are made to intersect at four points where detectors are placed. Seven detectors have been constructed at L.H.C., located deep 100ft-300ft underground along with accelerating rings.
Two of them ATLAS experiment and Compact Muon Solenoid (CMS) are large in sizes and also are general purpose detectors. ALICE and LHCb have more specific roles and last three TOTEM, MoEDAL and LHCf are very much smaller and are for very specialized research. The summaries of the main detectors are given below:
1. ATLAS: Used to look for signs of new physics, including the origins of mass and extra Dimensions.
2. CMS: Hunt for Higgs Boson and look for clues to nature of Dark Matter.
3. ALICE: Studying the fluid form of matter called quark-gluon plasma that existed shortly after Big Bang.
4. LHCb: Equal amounts of matter and antimatters were created in the Big Bang. It will investigate what happened to the missing antimatter.
Hope you find this post informative and would love to read my upcoming posts. So, subscribe to this blog and get notified with the latest blog posts. Also, have a look at one of my old blog post titled, 'amazing physics world 2019', where I have talked about the latest research and upcoming boosts in various fields in physics. There I have also talked about the future of the large hadron collider (L.H.C.).