In my last article, I discussed the main types of magnetism and assured you to provide some more information regarding superconductors. Do have a look at 'types of magnetism' to understand the concept of superconductivity.

WHAT ARE SUPERCONDUCTORS?: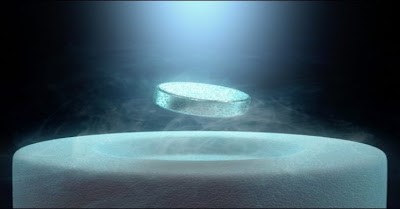 As I told you in my previous article, superconductors show perfectly diamagnetic properties. Superconductivity is a phenomenon of exactly zero electrical resistance and expulsion of magnetic fields occurring in certain materials, called superconductors, when, cooled below a critical temperature. Though an ideal superconductor will have zero resistance at absolute temperature, however, achieving absolute temperature is itself not practical, what we can do is to get closer to it.

Since superconductor has the ability to repeal under the influence of the external magnetic field (discussed in 'types of magnetism'), people make exciting science experiments showing levitation and future transportation.

The main difference between normal diamagnetic materials and superconductors is that superconducting materials will have zero resistance while other diamagnetic materials will have resistance. Though, both of them will repel under the influence of the external magnetic field. 

TYPES OF SUPERCONDUCTORS: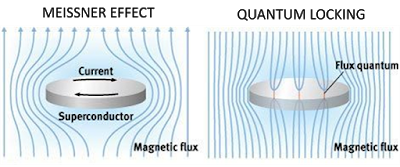 On the basis of the materials and critical temperatures, superconductors are divided as follows:
Type I-Superconductors: These are made of pure metals. When a material makes the transition from the normal to the superconducting state, it actively excludes magnetic fields from its interior; this is called the Meissner effect. The superconductivity exists only below their critical temperature (Tc) and critical magnetic field (Hc). Type I superconductors are well described by BCS theory, which is a bit advanced, thus will be described in my future posts.
Type II-Superconductors: These are made of alloys. Besides being mechanically harder than type I, they exhibit much higher critical magnetic fields (Hc). But they do not show the complete Meissner effect i.e. they do not exclude the magnetic fields completely, thus showing quantum locking/flux pinning. They are used for strong field superconducting magnets.

SUPERCONDUCTORS in 2019: 

In one of my post titled, 'amazing physics world 2019', I have unveiled the latest and upcoming research and experiments in the physics domain 2019. In that blog post, I also wrote about superconductors. In a nutshell, scientists are working to achieve superconductivity at room temperature. Many unsuccessful and almost successful attempts have been made and are being made to make a room temperature superconductor.

So what are your thoughts on such technology? Will it revolutionize our world? Give me your thoughts and theories on this topic down below. Do share this post with your friends and colleges and do read my other blog posts.